2008年12月21日
Hawaii jobless rate highest in 9 years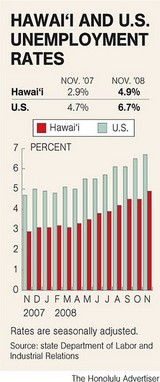 The state's seasonally adjusted unemployment rate in November reached a nine-year high of 4.9 percent as employers continue to struggle in a weakening economy.
The jobless rate was 2 percentage points higher than in the same month last year and a 0.3 percentage point increase from October. Unemployment has climbed steadily since late last year and has been fueled by dozens of companies laying off thousands of workers.
The number of unemployed last month was 32,650, compared with 30,400 in October and 18,850 a year ago, according to the Department of Labor and Industrial Relations. The number of seasonally adjusted nonagricultural jobs grew by 1,200 from 620,300 in October, but there were job losses in nearly every private-sector industry, the state reported.
Nationally, the seasonally adjusted unemployment rate rose to 6.7 percent last month, the highest since October 1993, when it stood at 6.8 percent. Michigan had the country's highest rate at 9.6 percent, followed by Rhode Island at 9.3 percent, while Wyoming had the lowest rate at 3.2 percent.
Hawai'i's rising jobless rate comes as no surprise as economists have predicted that the economy will continue to slow and unemployment will continue to climb through 2009.
In his economic forecast for First Hawaiian Bank, Hawai'i Pacific University professor Leroy Laney last month projected an average 5.5 percent unemployment rate next year. But, he said yesterday, that "might even be a little low at this point."
"It's just a reflection in economy and it's not surprising to me to see it at that level and I do think that it will continue to rise," Laney said. "Tourism has been very weak and that's reflected in various things, not just the visitor industry itself, but in retailing and in jobs that are directly and indirectly related to tourism."
Just how bad the job market has become was evident Thursday and yesterday, when thousands of people showed up at the Target Corp. job fair at the Hawai'i Convention Center. The retail giant is holding a four-day job fair to fill 1,200 jobs at stores in Salt Lake and Kapolei, which will open in March.
During the first two days of the fair, Target officials have turned away applicants before the official start of the event because so many hopefuls had showed up.
Yesterday, people were allowed to start lining up at 4 a.m. and the doors to the convention center opened an hour later. By 7 a.m., about 1,000 people had entered the center and Target told applicants outside that they can return today or tomorrow when the fair resumed.
Rob Parke, Target district team leader, said about 25 percent of the 1,200 positions were filled Thursday and he expected the same amount of jobs to be claimed yesterday.
"So going into (this) morning, we'll still have approximately half of our jobs open," Parke said.
He said Target officials were pleasantly surprised with the turnout.
"Today was an unusually large second-day turnout," he said. "It's very exciting. It confirms that this is the right place for us to be, and it appears the community is as excited to have us here as we are to be here."
reallifehawaii
posted at 09:40