2008年06月08日
Hawaii gas price sets record at $4.17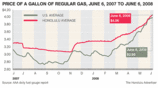 Gasoline prices statewide hit record highs yesterday, with Hawai'i's average price of a gallon of regular reaching $4.17, according to AAA Hawaii.
On O'ahu, the average was a record-high $4.06, 7 cents higher than on the previous Friday, 31 cents more than last month and 75 cents higher than a year ago.
On Lana'i, the price has passed $5 a gallon.
But Hawai'i does not have the highest gas prices in the nation. "As high as average prices are here, five other states have averages that are higher than Hawai'i," said Richard Velazquez, AAA Hawaii regional manager.
"There really wasn't any let-up in pump prices for motorists this week anywhere in the country," Velazquez said.
And gas prices are almost certainly going to keep rising. The price of a barrel of oil yesterday made its biggest single-day leap ever — a rise of nearly $11 atop an increase of almost $5.50 the day before.
In Hilo, the AAA reported, the average price of a gallon of regular gasoline yesterday was a record $4.15, up 5 cents from the previous Friday.
In Wailuku, the AAA said, the average was $4.49, up 7 cents over last week.
An observer on Lana'i reported that the only station there was selling regular for $5.119 a gallon.
reallifehawaii
posted at 10:48