2008年05月04日
Oahu home prices keep slipping lower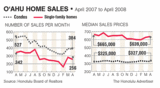 The median sale price of existing O'ahu single-family homes last month fell 3.9 percent, the third straight decline and the biggest so far this year.
While still small compared to many Mainland housing markets that have suffered double-digit price drops, O'ahu's April decrease was further evidence that Hawai'i's biggest residential real estate market is in the midst of a slight downward price slide.
The Honolulu Board of Realtors reported that previously owned homes sold for a median $639,000 in April, compared with $665,000 in the same month last year.
Sales volume, which is in its fourth year of decline, fell 25.1 percent last month to 256 sales from 342 sales a year earlier.
Condominium resales last month totaled 384, down 27.1 percent from 527 a year earlier. The median condo price was $327,000, up 0.6 percent from $325,000 in the same period.
reallifehawaii
posted at 10:20