2007年12月02日
Hawaii home values still rising, report says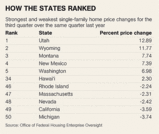 A federal report measuring housing prices confirms that Hawai'i single-family home values in recent months are still appreciating over last year, though more slowly.
The Office of Federal Housing Enterprise Oversight said single-family home prices in the third quarter rose 2.3 percent statewide and 3.45 percent on O'ahu compared with the same quarter last year.
The report is based on sale or refinancing values of homes during the quarter compared with previous sale or refinancing values for the same properties.
Given the same-home methodology, some view OFHEO price measures as more representative of inherent property values than local Realtor association reports that compile median sale prices.
A median price is a point at which half the sales were for more and half for less. While a fairly useful measure, median prices can be influenced by differences in the mix of homes — such as a greater preponderance of older and smaller homes or newer and bigger homes.
This is one reason why some observers question how accurately median resale figures reflect home values.
Yet a third-quarter report by the Honolulu Board of Realtors said median single-family home prices on O'ahu rose 2.3 percent (to $649,900) in the third quarter from the same period a year earlier — about 1.1 percentage points lower than the price increase reported by OFHEO.
John Jacobson, senior real estate analyst with local brokerage firm Prudential Locations, said the OFHEO report is another useful broad assessment of the market's health.
"It's an independent validation of our stable real estate market," he said.
Prudential Locations in its own study of resales of existing single-family homes puts third-quarter O'ahu median prices up 2.4 percent over the same quarter last year.
OFHEO's 3.45 percent third-quarter price increase for O'ahu homes was down from about 5 percent increases in the first and second quarters this year over the same quarters last year.
For the state, OFHEO's 2.3 percent third-quarter home price increase was down from about 4.5 percent increases in the first and second quarters over the same quarters last year.
The OFHEO study averages same-home price differences, so as with any measure of an average, individual results tend to be both higher and lower.
For instance, property records show a three-bedroom 'Ewa by Gentry home sold in August for $435,000, 2 percent more than the $426,440 it sold for in mid-2006. Another home in the same neighborhood sold in July for $445,000, 5.8 percent higher than the $420,441 it sold for in mid-2006.
Sale prices are down for other homes, such as a three-bedroom Makakilo house that sold in September for $425,000, down 4.5 percent from a $445,000 sale in mid-2006. A three-bedroom Waikele home sold for $682,000 in August, down 5.3 percent from $720,000 in early 2006.
One limiting factor of the OFHEO report is that it is limited to homes bought with conforming mortgages purchased or backed by Fannie Mae or Freddie Mac, which excludes a significant part of the market financed by subprime and jumbo loans.
Terrance Horton, a University of Hawai'i student and Honolulu home renter, said it's inconceivable to him that local home prices aren't already on the decline or approaching a drastic drop given the absence of ultra-low interest rates and subprime lending that fueled the home buying boom.
"Prices must fall back to a point where normal people, under traditional lending standards, can qualify for a mortgage," he said.
Local economists generally predict that O'ahu home prices will flatten over the next couple of years and not drop significantly unless there is a shock to the state economy that reverses job and income growth, creates a population exodus or boosts interest rates dramatically.
Helping sustain home prices is a state economy that continues to grow, albeit at a slower pace, as well as low unemployment, rising personal income, limited new-home construction and vibrant demand from out-of-state retirees and investors.
The University of Hawai'i Economic Research Organization in September projected that O'ahu's median single-family home resale price will end the year 0.97 percent higher at $638,160, then decline 0.63 percent next year to $634,150.
The federal report did say there was increased price weakness in more parts of the country, including Hawai'i, during the third quarter when compared with the second quarter
Hawai'i was one of 21 states where prices dipped on a quarter-to-quarter basis. OFHEO said it was the first time in nearly 13 years that its average U.S. home price experienced a quarter-to-quarter decline.
"While select markets still maintain robust rates of appreciation, our newest data show price weakening in a very significant portion of the country," agency director James Lockhart said in a statement.
Hawai'i's quarter-to-quarter price change barely registered as a decline, at minus 0.06 percent, and compared with a 0.36 percent dip for the U.S. average. In the first two quarters this year, Hawai'i's home price was up between 1 percent and 2 percent over the preceding quarters.
For O'ahu, the third-quarter home price was up 1.55 percent over the second quarter. That compared with quarter-to-quarter increases of 2.73 in the first quarter and 0.72 in the second quarter.
reallifehawaii
posted at 10:31