2007年06月23日
Honolulu ferry service may start in August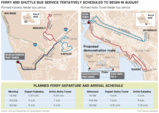 The city's delayed commuter ferry program could begin by late August,
now that a key federal grant is being released, officials said yesterday.
Two vessels from the Seattle area have been selected for the new system,
which will run between Barbers Point Harbor and Aloha Tower.
The city is also studying whether a ferry stop can be added at Iroqouis
Point, city Transportation Director Melvin Kaku said.
reallifehawaii
posted at 17:00