2007年04月22日
State jobless rate rises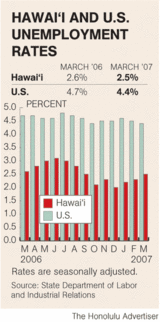 Hawai'i's unemployment rate edged up to 2.5 percent in March, giving the state the third-lowest jobless rate in the nation.
The state Department of Labor and Industrial Relations said yesterday that Hawai'i's seasonally adjusted jobless rate increased 0.2 percentage point last month from February's 2.3 unemployment rate.
The latest unemployment figures are in line with local economists' expectations that Hawai'i' tight labor market will ease this year as the economy cools.
Hawai'i's jobless rate, which was the nation's lowest for much of last year, was the third lowest in March after Montana at 2 percent and Utah at 2.4 percent. The national unemployment rate for March was 4.4 percent.
O'ahu's unemployment rate was 2.3 percent in March, up 0.2 percentage point from the previous month, while the Big Island's jobless rate was 3 percent, up 0.4 percentage point.
Maui's unemployment rate increased 0.2 percentage point to 2.2 percent, while Kaua'i's rate was 2.3 percent, up 0.3 percentage point. Unemployment rates for individual counties are not adjusted for seasonal variations.
According to the Labor Department, the number of unemployed workers statewide increased by 1,250 last month to 16,100 from February's 14,850.
Hawai'i's government sector lost 100 jobs, while the job count for other services fell by 200. Leisure and hospitality industries added 700 jobs in March, continuing their strong growth of recent months. The bulk of the growth in March occurred in food services as the result of several new restaurants opening in Waikiki. The trade, transportation and utilities industries gained 400 positions.
Hawai'i's construction industry added 200 jobs, as did the educational and health services sector.
"Long-term job growth across numerous industrial sectors has given local residents a wide array of employment opportunities," said Nelson Befitel, director of labor and industrial relations.
reallifehawaii
posted at 09:34