2007年04月15日
Maui home prices ease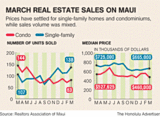 Sales volumes were mixed but median prices were lower for previously owned Maui condominiums and single-family homes last month compared with a year earlier.
"In a nutshell, (the) market overall looks steady with minor variations," said Terry Tolman, chief executive of the Realtors Association of Maui Inc., which released sales data yesterday. "Sales continue as sellers and buyers find common ground in a healthy market."
There were 138 single-family home resales in March, up 29 percent from 107 in the same month last year. March condo resales totaled 83, down 42 percent from 144 in the same period.
Median prices, a point at which half the sales were for more and half for less, were down around 10 percent.
Because Maui is a relatively small market, a handful of multimillion-dollar sales can skew median price changes, which don't necessarily reflect shifts in market values.
For single-family homes, the median sale price in March was $665,000, down 8 percent from $725,000 a year earlier. The median since October has settled below $700,000 and is well off the record $780,000 set in May 2005 and repeated in July 2006.
For condos, the median sale price in March was $460,000, down 13 percent from $527,625 a year earlier.
The March median was the lowest since February 2006, and compares with a peak of $649,000 in June 2006.
Despite softer median prices, homes took longer to sell than they did a year ago. Single-family homes sold last month spent a median 158 days on the market before selling, up from 134 days a year earlier. Condos spent a median 137 days on the market before selling last month, up from 126 a year earlier.
For the first three months of the year, single-family home sales were up 43 percent to 362 from 253 a year earlier, and condo sales were down 39 percent to 241 from 393.
First-quarter median prices were down 7 percent to $650,804 from $699,000 for single-family homes, and up 15 percent to $525,000 from $458,000 for condos.
reallifehawaii
posted at 11:15