2007年02月25日
Island economy moderating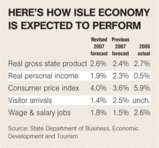 Hawai'i's economy is expected to continue growing at a moderate pace this year, with slight increases in visitor arrivals and inflation-adjusted personal income, according to the latest state forecast released yesterday.
Visitor arrivals are forecast to rise 1.4 percent this year after remaining unchanged in 2006, the Department of Business, Economic Development and Tourism said in a quarterly report. Visitor spending is expected to increase 4.8 percent in 2007, up from last year's 3.0 percent rise.
Meanwhile, Honolulu's consumer price index is forecast to rise 4 percent this year, slowing from a 5.9 percent spike in 2006. The slightly lower rate means inflation-adjusted personal income will grow 1.9 percent this year, up from the 0.5 percent increase in 2006.
"Positive growth in employment, personal income and tax collections in the fourth quarter of 2006 are indicative of a continuing broad-based expansion of Hawai'i's economy," according to the report.
Growth in wage and salary jobs is forecast to slow to 1.8 percent this year from 2.6 percent in 2001. Real gross state product, the broadest measure of the economy, is forecast to ease to 2.6 percent this year from 2.7 percent in 2006.
Still, the 2007 increases in real personal income and visitor arrivals were revised downward from DEBT's previous forecast issued in November.
The department forecasts are based on the latest trends of growth for Hawai'i's economy, as well as those for the U.S and Japanese economies, the two economies most influencing Hawai'i. U.S. gross domestic product is forecast to grow 2.7 percent in 2007, while Japan's GDP is forecast to grow 2.1 percent for the year.
reallifehawaii
posted at 10:21