2007年02月21日
Tracking illegal rentals, B&Bs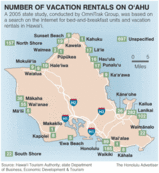 State lawmakers are considering legislation to help counties track down where unlicensed vacation rental and bed-and-breakfast operators are located.
The bill, approved by the Senate Economic Development and Taxation Committee last week, would authorize the state Department of Taxation to disclose the location of vacation rental and bed-and-breakfast operations to the counties.
Vacation rentals and B&Bs often pay the state transient accommodations tax and general excise tax even if they are not licensed by the county to operate. Armed with tax records, county officials could locate unlicensed rentals and fine their owners.
The operators, who argue that vacation rentals help communities by bringing in tourist dollars, say the proposed law would unfairly punish small proprietors and infringe on their privacy. It also could encourage operators to stop paying taxes.
Supporters of the bill say it would help county officials with the difficult task of enforcing vacation rental laws. That would please neighbors of vacation rentals who complain they bring in problems such as more traffic and noise and change the character of neighborhoods.
"Anything that enforces the existing rules is a good thing," said Makaha resident David Brand, adding that he lives next to a house that became a vacation rental a couple of years ago. "The place used to be a $1,200-a-month rental for valuable members of the community ... and now we have tourists from everywhere and anywhere (paying) between $1,600 and $3,000 a week, depending on the season. It just changes the dynamic of the neighborhood."
Tonic Bille, president of the BB/TVU Association of O'ahu and owner of a licensed B&B in Kailua, said this bill is not the answer.
"We feel that this is a civil rights issue. We have the right to conduct our business as long as we pay (transient accommodations) and (general excise) taxes," Bille said. "I don't know of anybody who doesn't pay taxes. ... I don't understand why the state would want to risk losing millions in tax revenue by eliminating the vacation rental industry.
"We want to continue to work with the city and county to create a positive environment through regulation instead of a hostile environment between neighbors in the community."
In 1989, the City Council banned the issuance of new permits for vacation rentals and B&Bs in an effort to prevent the proliferation of the units, but many have complained the law is difficult to enforce.
1,002 HAVE LICENSES
There currently are 60 licensed B&Bs and 942 licensed vacation rentals on O'ahu. A 2005 state study based on Internet searches found more than 1,900 such units on the island.
A rise in complaints, however, has led the city to step up its investigations on unlicensed operations and issue more citations. The state Regulated Industries Complaint Office also began an investigation into how some individuals and companies are advertising and managing vacation rentals that may be illegal.
City Department of Planning and Permitting Director Henry Eng said information identifying locations for which owners are paying transient accommodations taxes would help the department in its enforcement against illegal vacation rentals and B&Bs. He said the department has previously asked state tax officials for that information but was told it's confidential. This bill would clear the way for such information to be released to the counties.
"By sharing critical (tax) information, the counties will be able to much more effectively thwart the proliferation of illegal vacation rentals," Eng said.
PLAN OPPOSED
The state tax department, on the other hand, doesn't believe providing such information "is part of our kuleana," said spokesman Roy Yanagihara.
"To ferret out and discover which houses are being used for B&B (and vacation rental) purposes really is not something that the tax department should be doing. I know that some senators feel that way, but our type of people are auditors, accountants, not building inspectors."
Lawmakers would also be creating a precedent in requiring the tax department to share information that is currently considered confidential, Yanagi-hara said.
"The Legislature, of course, can certainly open that door, but they're creating a precedent," he said. "And I don't know if they really want to do that just for TAT (transient accommodations tax)."
TAX ARGUMENT
The "vast majority" of vacation rental and B&B owners — including those who are unlicensed — pay their general excise and transient accommodations taxes, said Powell Berger, spokeswoman for the Kokua Coalition, which is made up of vacation rental and B&B operators and others.
"There's some concern that the unintended backlash of this will be that people who do pay their taxes will now be fearful that it's going to lead to a witch hunt on the part of the city and county," Berger said. "So we'd rather see the city and the state focus their energy on finding a way to regulate it and license it in a meaningful way that protects the community and allows the industry to contribute to the community."
Don Bremner, spokesman for Keep It Kailua, a citizens' group that has been pushing for a crackdown on the accommodations, said unlicensed operators just don't want to get caught.
The bill "would be helpful to the county enforcement effort (against unlicensed operations), which we're very much in favor of," said Bremner, a Kailua resident. "They're having a great deal of success in their enforcement effort in conjunction with people in the community and neighbors. But this would ... fill in the gap."
'OUT OF CONTROL'
Longtime North Shore resident Karen Gallagher said illegal vacation rentals are "out of control" and displacing local long-term renters.
"They're everywhere; there are three on my street," she said. "So we have loud tourists going up and down the street, rental cars everywhere."
City Council resolutions aimed at curbing illegal operations while licensing more B&Bs under certain conditions won preliminary approval in 2005 and are now under review by the city Department of Planning and Permitting. The department will then send recommendations to the Planning Commission, followed by a series of council and council committee hearings.
reallifehawaii
posted at 22:16