2007年02月04日
33% in Isles not self-sufficient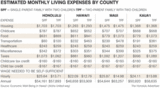 注)ホノルル生活のTransportation cost はバス利用前提で安すぎ、実際は車利用だとマウイ並み、実質ホノルルが生活コスト一番。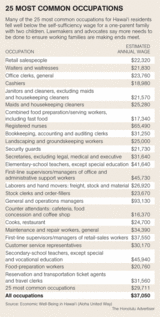 注)ハワイで学歴や特別なスキルを必要としない職業の平均年収は3万ドル程度。
共稼ぎでどうにか必要最低限を稼ぎ出せる程度。これでは十分な老後資金を作るなど夢。
年金社会保障が整備されていない米国では非常に不安。
At least one-third of Hawai'i households don't earn enough money to cover their expenses without outside help, according to University of Hawai'i researchers in conjunction with a new study.
The study estimates a single parent on O'ahu with two young children must have an annual income of at least $54,161 to cover a no-frills budget.
"We're hoping that this report will serve as a catalyst and a jumping-off point for discussion and some implemental actions," said Sylvia Yuen, director of the University of Hawai'i Center on the Family, which produced the report in tandem with Aloha United Way.
The study, released yesterday, says a family is "self-sufficient" when it doesn't rely on outside funding — from the government, private agencies or relatives — for support.
It estimates an O'ahu single parent with two young children has to spend about $1,700 a month on housing, $787 on child care and $631 on food.
The family is allotted $60 a month for transportation — for city bus fare — and $342 for miscellaneous expenses such as non-prescription medicine, diapers and personal hygiene or household cleaning products.
The same family would have to earn a little more to make it in Maui County, and about $3,000 less in Kaua'i. The Big Island was the cheapest place for the family, which would have to earn $46,658 to be considered self-sufficient — $7,500 less than on O'ahu.
Aida San Miguel, a Head Start teacher at Palolo Elementary School, said the calculations in the report are no surprise. If anything, she said, they are too low.
The 52-year-old said she and her husband are struggling as they help out their adult children and their families with financial and other support while also trying to meet mortgage payments and household expenses. The two earn a total of about $80,000 a year.
One of their daughters, her husband and their three young children are living with the couple in their three-bedroom house. The couple, both of whom are working, had been living in their own place until 2005, but could no longer afford it after their rent was raised.
Miguel said her three other daughters are living on their own, but sometimes ask for assistance to cover housing or other expenses. "Whatever extra we have goes to helping them survive," she said. "It's hard for me to see them struggle so much."
Miguel said she tries to have at least one mortgage payment in the bank at any one time. She and her husband have no savings, though. And the two are now worried about retirement.
NEED FOR TWO JOBS
Susan Doyle, president of Aloha United Way, said the report quantifies just how hard it is for families to make ends meet in the Islands, and helps explain why so many Hawai'i residents are getting two jobs, doubling up in homes or reaching out for help.
"I think the biggest thing is just the huge difference between what it costs for people to maintain themselves at a minimal budget versus what we all earn," Doyle said. "We're talking about a no-frills budget. No movies, no pizza, no nothing."
The report points out the average annual earnings for retail sales positions — the most common occupation in the Islands — is $22,320. The average wage for the 25 jobs that employ the most people in the state is $29,711, while the average for all occupations is $37,050.
Though it was not included in the study, UH researchers estimate 30 percent to 35 percent of Hawai'i households don't meet the self-sufficiency standard, based on 2005 population and income figures.
COVERING BASIC NEEDS
Shijen He, a data manager at the Center on the Family, said the report provides a first look at how working families are not making it in Hawai'i.
"It's not a matter of comfort," He said. "The report is about meeting basic needs."
The report comes as more lawmakers and advocates are looking at the self-sufficiency standard as a new goal for Hawai'i families. In the past, many used the federal poverty level to assess the economic well-being of residents, reasoning households earning above poverty wages were at least able to cover basic needs, including housing and food.
Many have criticized those calculations for underestimating what it costs to live in Hawai'i.
In 2007, a couple with two children is considered to be living above the poverty level if they earn at least $23,750, according to federal figures. The report, which is based on 2005 housing and other costs, estimates the same family would need more than double the poverty level wage — at least $57,892 — to be self-sufficient on O'ahu. The family would need at least $63,257 on Maui.
A new bill moving through the Legislature would base welfare payments on a percentage of the self-sufficiency standard, as opposed to federal poverty levels.
It also would require the state Department of Business, Economic Development and Tourism to calculate the self-sufficiency standard annually.
MORE HIGH-PAY JOBS
State Senate Human Services Chairwoman Suzanne Chun-Oakland, who supported the bill when it came before her committee this week, said the report makes it clear that the state needs to provide more higher-paying jobs and opportunities for advancement.
"We need to be making sure that people are educated in a way that people will meet that kind of demand for jobs that are higher-paying," Chun-Oakland said.
The report updates a report released by the state Commission on the Status of Women in 2003. Yuen said the earlier report used slightly different calculations and data sets for determining self-sufficiency. Still, a comparison of the two is worthwhile, she said.
In 2003, a single parent with two young children in Urban Honolulu, East Honolulu or Waikiki needed to earn about $44,321 a year to be considered self-sufficient.
The new report says the same family now needs to make about $9,840 more a year. That figure includes no money for emergencies, savings or car transportation.
Sharon Ferguson-Quick, executive director of the state Commission on the Status of Women, said the self-sufficiency wage provides policymakers and advocates with a more accurate picture of how hard it is for working families to scrape by in Hawai'i.
"It's easy to see why you see both parents working and sometimes both parents working multiple jobs, and yet the family is still struggling financially," Ferguson-Quick said. "There are lots of people who are working and winding up now in their cars."
reallifehawaii
posted at 09:59