2007年01月20日
Hawai'i gets a D for business effort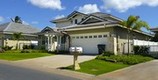 Hawai'i got an A and two D's yesterday on a report card that assessed the state's economic health and potential for growth.
The Washington, D.C.-based Corporation for Enterprise Development, or CFED, gave the state an A for the performance of its economy, which continues to boast one of the lowest jobless rates in the nation. However, the state got D grades for both business vitality (a measure of business competitiveness) and for capacity (potential for economic growth).
Overall, the group's 2007 report card was an improvement on last year, when Hawai'i garnered F grades for business vitality and capacity and a C for the performance of its economy.
Hawai'i benefited from an improved poverty rate ranking and more balanced income distribution. These, coupled with the nation's lowest unemployment rate, moved Hawai'i up in the 2007 report.
"Hawai'i has an economy unlike other states'," said David Buchholz, research director for CFED, in a news release. "Even when business is good, high costs and scarce resources can make things difficult for many residents. It can be tough for many ... (residents) to own a home or find full-time employment rather than part-time or seasonal work."
Among the weaknesses of Hawai'i's economy cited in the report were a low homeownership rate and high energy costs, where the state ranked 48th and 50th respectively among all states.
The last time Hawai'i earned an A on the report card was in 1995.
The CFED, an advocate of economic opportunities for the poor, based its 20th annual Development Report Card For the States on 67 measures, ranging from an area's crime rate and air quality to its industrial diversity and record for creating new companies and jobs.
The top performers were Connecticut and Delaware, the only states to earn straight A's.
reallifehawaii
posted at 10:45