2006年11月23日
Jobless rate falls to 2.1%, a U.S. low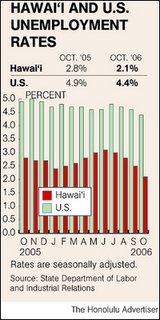 Once again, Hawai'i had the lowest unemployment rate in the nation last month.
Hawai'i's jobless rate fell to 2.1 percent in October, marking the third straight month the state has posted the lowest unemployment rate in the nation.
October's rate was down 0.4 percentage point from September's seasonally adjusted 2.5 percent rate, the state Department of Labor and Industrial Relations said yesterday. In comparison, the U.S. seasonally adjusted unemployment rate dipped to 4.4 percent in October compared with 4.6 percent in September. The jobs data are adjusted to compensate for seasonal factors, such as holidays, that could skew year-over-year comparisons.
Hawai'i's monthly seasonally adjusted unemployment rate has been below 3 percent for nine of the last 12 months. Economists expect state economic growth to slow this year. However, the low unemployment rate shows that Hawai'i's economy remains on strong footing, helped by a robust real-estate market and a stable tourism sector.
Despite the dip in the unemployment rate, which is derived from a survey of households, a separate survey of businesses showed a net decline of 2,400 nonagricultural payroll jobs to 621,400 jobs in October from June. Still, 12,800 new jobs have been created statewide since October of last year.
The October jobs report showed a month-to-month decline in other services; trade, transportation and utilities; education and health services; and leisure and hospitality. The government sector gained jobs.
On a nonseasonally adjusted basis, the Big Island's jobless rate in October fell to 2.2 percent, versus 3 percent last year; Honolulu's rate fell to 1.9 percent, compared with 2.7 percent a year ago; Maui County recorded 1.9 percent, down from 2.6 percent a year earlier; and Kaua'i's rate fell to 2.0 percent from 2.5 percent a year ago.
In October, Hawai'i's seasonally adjusted labor force totaled 657,700 and was composed of 644,000 employed and 13,700 unemployed people.
reallifehawaii
posted at 10:27