2006年11月11日
Hawai'i economy reported slowing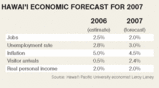 A cooling housing market and stubbornly high inflation will cause Hawai'i's economy to slow this year and next, although growth will continue at a "respectable" pace, Hawai'i Pacific University economist Leroy Laney predicted yesterday.
Such a slowdown isn't surprising because the economy, in its 10th year of expansion, has entered a "maturing phase," Laney said at the First Hawaiian Bank Business Outlook Forum at Dole Cannery.
Laney noted that a decline in sales of single-family homes that began in 2005 accelerated in 2006. At the same time, median prices have continued to increase, but at a slower pace than in 2004 and 2005.
"It's fair to say that the local real estate boom is about over," Laney said. "Speculation is much less in evidence, and more buyers just wanting a house to live in are on the sidelines, observing prices more closely."
Some relief in rising home prices is actually good news for the economy over the longer term, he said.
"Unaffordable shelter makes it much harder for those who just live and work here to make ends meet. It also encourages out-migration, discourages in-migration, and aggravates our labor shortage. So current trends really aren't bad news at all."
On the inflation front, Laney said he expects consumer prices to rise 5 percent this year, up from a 3.8 percent increase in 2005. His forecast calls for consumer prices to rise 4.5 percent in 2007.
"You can't sustain the kind of growth that Hawai'i has been experiencing without inflationary pressures building up. For example, the labor shortage puts upward pressure on wages, and rising construction material costs are something builders have been noticing. Add to that the big effects of higher energy and home prices, which also feed into rents and property tax valuations, and we start getting sharply higher readings on inflation."
Laney's forecast also calls for:
Job growth to rise 2.5 percent in 2006 and 2 percent in 2007. "That's still a pretty healthy rate of job creation since the unavailability of workers to fill new positions will still serve as a constraint on new job growth, especially on the Neighbor Islands."
Visitor arrivals to rise a scant 0.5 percent increase in 2006 before rising 2.4 percent in 2007. "A somewhat slower Mainland economy, with a turn in the real estate market there as well as other factors, could curb Hawai'i tourism growth a little more than might otherwise be the case."
Real personal income to post back-to-back increases of 2 percent in 2006 and 2007. "That's better than just a 'soft landing.' It's still respectable real growth."
Vehicle sales to stagnate as the effects of low interest rates and rebates in earlier years wears off. "A leveling off in 2005 is likely to be followed by a slight drop in 2006. However, the number is still high relative to historical levels."
reallifehawaii
posted at 17:40