2006年11月04日
Sales of previously owned homes on O'ahu slow down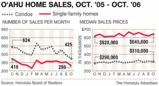 Prices up; sales down.
The pattern in O'ahu's housing market for much of this year was repeated in October. The median price for a previously owned single-family home — $645,000 — was up 4 percent from a year ago, but the number of homes sold was down 28 percent.
"It's definitely slowed down," said Amy Conley, an agent with Re/Max Kailani who primarily represents buyers. "The buyers are being a little more picky, I think, because they know they can be. The panic buying is over."
Prices remain high because sellers are reluctant to discount their properties and there is enough demand even at the near record prices.
The trend was similar for condominiums. The median price was $310,000, up 7 percent from a year earlier, but sales were down 32 percent.
The housing market continues to move toward a more normal balance between buyers and sellers, said Mary Flood, president of the Honolulu Board of Realtors, which issued the report.
GOOD GUESSES
The numbers were in line with local economists predictions that O'ahu home prices will more or less flatten out over the next year because of softer demand. They don't expect a significant decline in prices unless there is a shock to the local economy that reverses job and income growth, creates a population exodus or boosts interest rates dramatically.
The median single-family home price this year is on pace to rise about 8 percent over last year. In 2005, the median price rose about 30 percent over 2004.
A University of Hawai'i Economic Research Organization report last month forecast a 1.5 percent decrease in O'ahu single-family home prices from about $635,500 this year to $625,700 next year.
Harvey Shapiro, research economist for the Board of Realtors, expects that 2007 median prices won't move up or down by more than $20,000 or $30,000 over this year's levels.
Paul Brewbaker, Bank of Hawaii's chief economist, recently said it would surprise him less if next year's home prices were lower by about $25,000 than if they were $25,000 higher.
Brewbaker also calculated that when accounting for seasonal differences, prices already have declined from about $635,000 at the end of last year to about $625,000, or 1.6 percent.
List prices for single-family homes have been declining since their June 2005 peak of $850,000 to $739,000 last month.
Shapiro said this shows that sellers still expect to get higher prices than what properties are selling for, but that the gap between seller expectations and sale prices is narrowing. "Consumers continue to pay the higher prices," he said in the report.
However, John Baessler, an agent with Abe Lee Realty, said homes in some markets are being listed for less than what comparable property previously sold for.
For example, at the Hawai'i Kai townhome complex Marina Palms, similar quality units with three bedrooms and two bathrooms sold for $599,000 last December and $552,000 in March. Another was listed in June and after at least two price reductions is still for sale at $545,000.
Baessler added that in many communities he sees few pending sales, an indicator that closings, or completed sales, will continue to be weak in the next few months. "It's amazing," he said.
October's median single-family home price of $645,000 was the highest since $660,000 in July, and was the fourth highest of the year. The record was $668,300 in May. For the first 10 months of the year the median was $635,000.
For condos, the median price record was $329,000 in July. For the first 10 months of the year, the median was $310,000. There were 425 condo sales last month, down from 624 a year earlier.
MONTHLY DECLINES
Sales for single-family homes and condos have been down every month since June compared with the same year-ago month. The last time there was a price decline for one month versus the same year-ago month was August 2001.
Inventory in October was a little less than double that of last year, but when compared with September was down by 61 to 2,689 units for condos and up by 21 to 2,026 units for single-family homes.
Until October, inventory had been rising more significantly from month to month since mid-2005. Shapiro said October's drop was likely a return back to normal seasonal changes when inventory tends to dip late in the year.
reallifehawaii
posted at 17:38