2006年10月29日
Visitor arrivals steady, if not super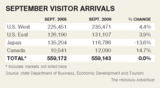 With nine months of visitor data in the books, it's clear 2006 is not going to match the growth Hawai'i's No. 1 industry experienced in 2005.
Hawai'i hosted roughly 560,000 visitors last month, the same number that came in September 2005, the state reported yesterday. Arrivals for the first nine months of the year are up only 0.1 percent at 5.6 million.
Last year, tourist arrivals grew by nearly 7 percent to a record 7.46 million.
Opinions in the tourism industry are split between those pleased to be matching last year's record and those wishing the state could do better.
"You can't live with last year's marks. You've got to improve on the prior year," said Keith Vieira, senior vice president and director of operations for Starwood Hotels & Resorts in Hawai'i and French Polynesia.
David Carey, president and chief executive officer of Outrigger Enterprises, said keeping pace with last year's record is not a bad accomplishment.
"Last year was such a good year and particularly the fourth quarter was such a good quarter. It's pretty hard to say that we're going to duplicate a quarter like that two years in a row," Carey said.
"The outlook for the rest of the year is steady and good," Carey said. "It's not robust, but I think we will equal last year."
The Oct. 15 earthquakes could dent October numbers, but tourism executives are hoping for a strong November and December.
"My gut feeling is consumer optimism has markedly increased, and that is being reflected in our advanced bookings for the next two months," said Mike Paulin, owner of Aqua Hotels & Resorts.
Last year's 7.46 million visitors shattered the previous record of 6.99 million set in 2004.
In September, visitor spending dropped 1.6 percent from a year ago to $910.7 million. Year-to-date expenditures are still up 3.8 percent at $8.9 billion, the state Department of Business, Economic Development and Tourism reported.
"Ultimately, visitor arrivals are irrelevant. It is spending, and spending numbers are what helps us pay the bills," Vieira said.
The Sheraton hotels have seen a "definite softness" in the second half, Vieira said, which he blames on the hike in fuel surcharges for visitors from Japan, as well as the negative news that resulted from the Oct. 15 earthquakes and islandwide blackout. He said Sheraton saw cancellations after the earthquake and advanced bookings slowed.
"I don't think we're in a panic or thinking that it'll ruin '07. But we have concerns," Vieira said. "There's no question the boom of '05 is over. It kind of rolled into the first five or six months of '06, but is not there in the second half of '06."
The pattern for much of this year has been a decline in Japanese visitors and an increase in Mainland visitors. That's a concern to the visitor industry because the Japanese tend to spend more than other visitors.
September arrivals from Japan were down 13.6 percent to 116,786, and are down 9.2 percent for the year.
Yujiro Kuwabara, director and general manager of JTB Hawai'i, blamed the fuel surcharge, which is about $260 per passenger, and a decrease in the number of flights as primary reasons for the decline.
"Hawai'i is not a once-in-a-lifetime destination anymore. They like to come, but they don't have to come when they feel it's expensive," Kuwabara said.
Carey said most hotels saw a flat September and that October bookings have not improved much from last year. But December reservations are up and Carey is optimistic that Outrigger will end the year on a high note.
Paulin, of Aqua Hotels, agreed with Carey that the outlook for the rest of the year is positive. He said he expects a "greater occupancy," possibly up to 8 percent from last year, at his 10 Waikiki hotels in the final two months of the year.
Paulin said just matching last year's numbers is an achievement.
"Anybody who would have told me three Septembers ago that we'd have a September like we just had, I don't think there's a hotelier who wouldn't have jumped through the roof."
reallifehawaii
posted at 09:57