2006年10月29日
Gas prices falling but still high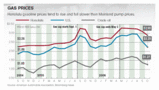 Honolulu and Mainland prices have fallen sharply since August on a drop in crude oil prices. Still, Honolulu's prices remain well above an average gap of 36 cents a gallon higher than the national average set between February 2003 and September 2006.
During October, the gap between Honolulu pump prices and the national average is 65 cents for regular.
10 TIPS TO CUT YOUR GASOLINE BILL
Take the bus
Car pool
Drive slowly and avoid aggressive driving — including "jack-rabbit" accelerating
Drive a fuel-efficient car
Cut excessive idling
Telecommute
Use gasoline credit cards; you can save up to 5 percent
Cover that truck bed
Change the air filter
Tune up your engine
WHERE TO BUY THE CHEAPEST GAS
Enter your ZIP code and find nearby pump prices at: http://autos.msn.com/partners/sponsorpage.aspx?page=gas.
A Web site with consumer-reported pump prices around Honolulu is at: www.honolulugasprices.com.
Costco prices often are lowest in Honolulu.
reallifehawaii
posted at 09:42