2006年06月24日
Time-shares, condos outpace hotel rooms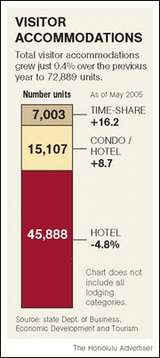 Hotel room inventory continued to fall last year while condominium and time-share units grew, according to a report released yesterday by the state Department of Business, Economic Development and Tourism.
The state's 2005 Visitor Plant Inventory showed that the overall visitor accommodation inventory is relatively stable, growing just 0.4 percent over the previous year to 72,889 units. The report is based on a survey of visitor units as of May 2005.
There has been a shift in conventional hotel rooms to condo hotel and time-shares, state tourism liaison Marsha Wienert said.
The number of hotel units fell 4.8 percent to 45,888. At the same time, condo hotel units increased by 8.7 percent to 15,107. Registered time-share units totaled 7,003, up 16.2 percent.
Despite the reduction in the overall number of hotel rooms, Hawai'i will remain a full-service hotel destination, said Joseph Toy, president of Hospitality Advisors LLC. He also noted that hotel rooms have recently been taken out of service for renovation.
"In my view, hotels will always continue to be the foundation of Hawai'i's visitor plant inventory," Toy said. "What we're seeing right now is more segmentation of the product base. Certainly there have been conversions of hotel rooms to time-share (and) primarily condos, but we've also seen an increase in new builds."
Toy said almost 7,000 more accommodation units — roughly split between resort condos and time-shares — are projected to be built over the next four years. He also said he expects the pace of hotel conversions to slow.
The DBEDT report also highlighted a shift toward more high-end accommodations, a movement driven largely by the recent renovations in Waikiki.
Visitor units classified as standard, with rack rates of $101 to $250 a night, made up the largest group of total units statewide with a share of about 40 percent. But that share fell 3.5 percentage points from the year before.
At the same time, the category for luxury accommodation units — those with rates of more than $500 a night — saw its share of total statewide units grow 2.2 percentage points to 10.5 percent.
Other highlights of the report:
Hotels still made up the majority of visitor units statewide at 63 percent, followed by condo/hotel properties at 20.7 percent. Time-share properties made up 9.6 percent of the inventory, while individual vacation unit properties amounted to 3.3 percent. Bed-and-breakfasts and hostels each made up less than 1 percent of total visitor units.
The Big Island saw the largest increase in visitor units, with 13.1 percent growth over 2004, followed by Maui County, which reported 4.4 percent growth. Kaua'i's accommodation inventory fell just 0.3 percent. O'ahu, which has the largest share of accommodations, saw a 5.1 percent decrease to 34,167 units.
The 2005 Visitor Plant Inventory report is available on the department Web site: www.hawaii.gov/dbedt.
A limited number of printed copies are available for pickup at DBEDT's Research & Analysis Division on the fourth floor, Diamond Head Wing, of One Capitol District Building at 250 S. Hotel St.
reallifehawaii
posted at 10:30